DVMA Graduate Student Meeting & Workshop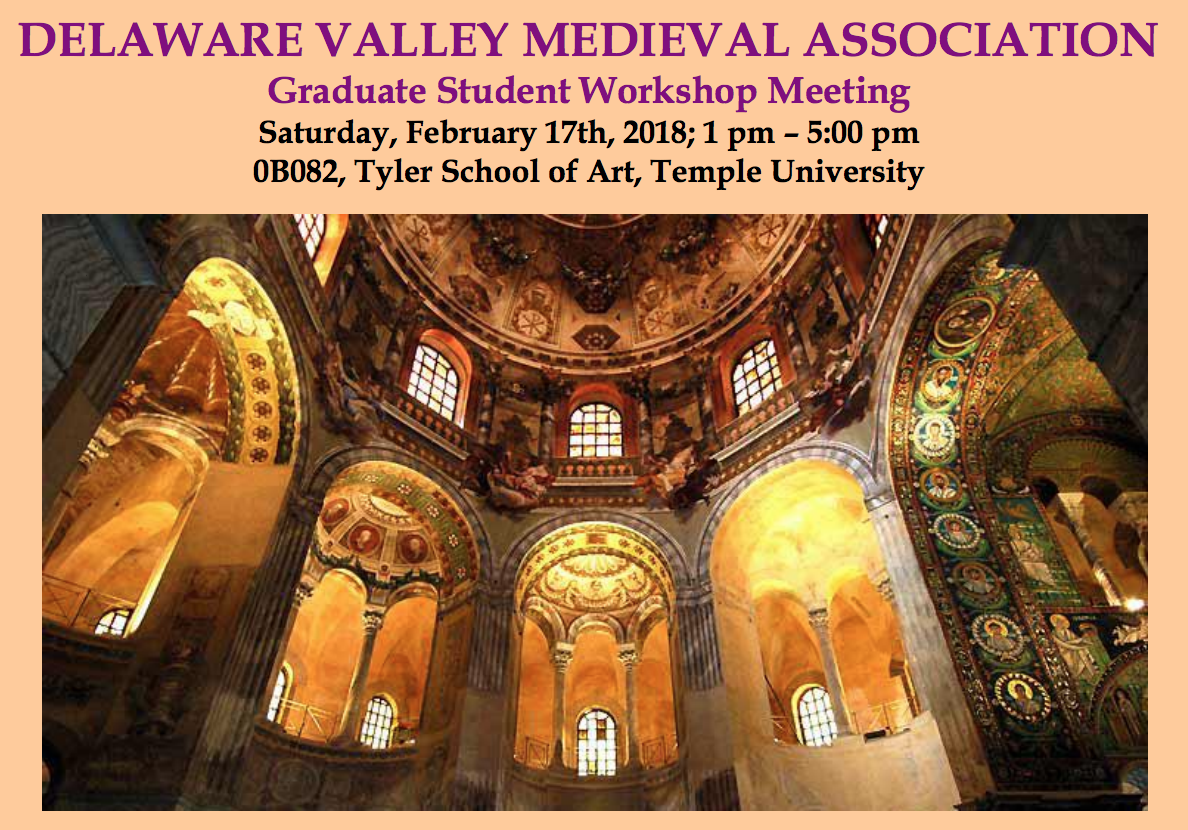 Students and Faculty: 
We are excited to invite you to the Graduate Student Meeting & Workshop organized by the Delaware Valley Medieval Association that will take place in 0B082, Tyler School of Art, Temple University, on Saturday, February 17, 2018, 1-5 PM.
Program:
1:00 – 1:20 pm: Coffee and Pizza
1:20 – 1:40 pm: DVMA Graduate Student Organizational Meeting and Discussion
1:40 – 3:10 pm: Graduate Students Work Sharing Session. Formal and informal presentations.
v  Elena Gittleman (Bryn Mawr College), "Performative Spaces of Martyrdom: Architecture and Gesture in the Rotunda of Thessaloniki and Menologion of Basil II."
v  Lily Scott (Temple University), "The Theotokos and Prodromos in the Age of Justinian: The Early Deësis."
v  Justin Willson (Princeton University), "Seeing and Theorizing Nimbi in Byzantium in the Fourteenth Century."
v  Shannon Steiner (Bryn Mawr College), "Artisanal Research: Investigating Byzantine Enamel through Contemporary Goldsmithing."
3:10 – 3:20 pm: Coffee Break
3.20 – 4:10 pm: Students' presentations continue
v  Hannah Hunter-Parker (Princeton University), "Lessing, Laokoon, and the 'Mooncalf' Manuscript"
v  Nathalie Lacarriere (University of Pennsylvania), "Self-Glossing and Shifting Layouts in Christine de Pizan's Epistre Othea."
4:10 – 5:00 pm: Kaelin Jewell (Temple University) will lead the hands-on workshop "Reconstructing Lost Churches with SketchUp Make." Please bring a laptop computer. Kaelin will introduce participants to the world of digital reconstruction through the use of SketchUp Make, a freely accessible architectural rendering program.
CO-SPONSORED BY THE DEPARTMENT OF THE HISTORY OF ART, TYLER SCHOOL OF ART, TEMPLE UNIVERSITY
For registration and membership information, please visit: http://dvmamedieval.com/
The annual membership fee for students is only $10, and student members attend all DVMA meeting for free. Members are also eligible for DVMA grants and prizes. Please find more information about our meeting, the DVMA, and the benefits of DVMA membership on our renewed website http://dvmamedieval.com/ and in the attached flyers.
Thank you very much for your attention. We hope to see you there!
Have a wonderful semester!
DVMA graduate student representative
Marina Mandrikova,
Teaching Assistant | Ph:D. Student
Department of Art History, Tyler School of Art
Temple University. Philadelphia, PA, USA

email: This email address is being protected from spambots. You need JavaScript enabled to view it.
Event Properties
| | |
| --- | --- |
| Event Date | 02/17/2018, 1:00 am |
| Event End Date | 02/17/2018, 5:00 am |
| Registration Start Date | 02/09/2018 |
| Capacity | 100 |
| Individual Price | Free |